Full Optical Layout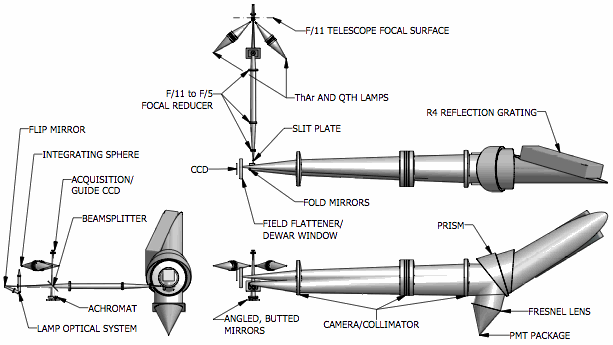 The PFS optical design is described in the 2006 SPIE paper and updated in the 2008 SPIE paper.
---
Lens Data
Element drawings for each custom optic and catalog numbers for each commercial lens are available below.
---
Spectral Format
The approximate echellogram is presented both as lines tracing the center of the free spectral range of each order, and as discrete slit images at specific wavelengths across the free spectral range of each order. The latter shows the variation in the line tilt across the format. The slit is tilted by 8.4 degrees so that the mean line tilt will be vertical across the 500-620nm iodine absorption region. Only those orders spanning 390 to 620nm are represented, although the PFS format extends to 668nm. A stellar spectrum taken with PFS is shown below with several prominent absorption lines labeled.