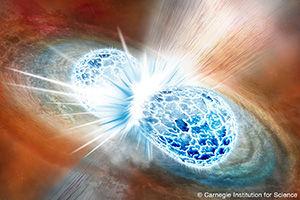 The Laser Interferometer Gravitational-Wave Observatory (LIGO) was awarded the Nobel Prize in Physics in 2017 for the detection of merging black holes by gravitational waves. Although this was an amazing triumph, black hole mergers do not emit light and are therefore invisible to telescopes. Neutron star mergers, however, had long been expected to produce both light and gravitational waves, so the detection of these events had been eagerly anticipated.
Following the first ever detected gravitational waves from neutron stars on August 17, 2017, our group, in collaboration with UC Santa Cruz, were the first to discover the optical counterpart, named Swope Supernovae Survey 2017a (or SSS17a), less than 11 hours after the neutron stars merged. Furthermore, we were the only group in the world to take spectra during the first night after the merger (and multiple spectra at that) with the two Magellan telescopes at Las Campanas Observatory.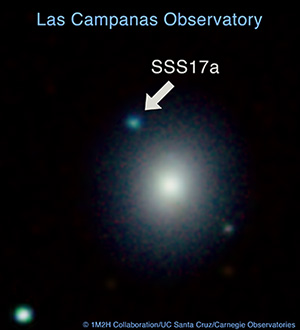 This unique data set provides exciting new information about the physics of how neutron stars destroy each other as they merge. Following our discovery, we continued to take observations of this event over the following weeks. These data revealed a glowing, red transient that is likely powered by the radioactive decay of heavy elements synthesized in the merger debris. This explains a many decades old problem of where many of the heaviest elements in the Universe (such as gold, platinum, and uranium) originate from. The ability to study the same event with both gravitational waves and light ushers in a new era of astronomy. We can now study the universe with two completely different probes, which teach us things we could never know with only one or the other.
This discovery was widely covered in the popular press, including CNN, EurekAlert, Phys.org, CBS News, New York Times, NPR, and National Geographic.