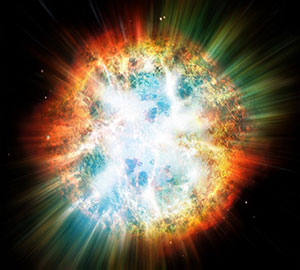 Scialog is a unique approach to supporting early career scientists, funded by the Research Corporation for Scientific Advancement (RCSA). Instead of a normal grant submission process, a group of 45 Scialog fellows participate in a discussion-focused conference where we rotate between smaller groups to talk about a variety of hot topics. At the end of two days, the fellows form two to three person teams to write competitive proposals, which we present to a panel of judges on the third day.
My group won one of seven 2016 Scaialog awards for a collaborative project that includes numerical theorist Daniel Kasen (University of California, Berkeley) and observer Nathan Smith (University of Arizona). We propose to combine theoretical predictions with observations to solve previously unexplained mysteries about supernovae and how massive stars end their lives.
Our project makes use of many of the unique resources available at the Carnegie Observatories. The main idea is that many massive stars may have increased activity near the end of their lives, which may exhibit itself best by carefully studying the supernovae produced as the stars die. My recent theoretical work predicts what signatures should be seen and how these signatures should be interpreted. The extreme sensitivity of Carnegie's Magellan telescopes are perfect for finding these signs of activity.
You can read more about this award at the websites of the Carnegie Observatories and RCSA.